1) Fill Out the simple form below.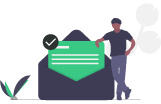 2. I'll send you everything I need from you to get going with your design.

3. If you're happy with everything, you pay the invoice and I get started on your brand new logo!
I'm super excited to start working with you, just fill out the VERY short form below, and I'll get in touch!